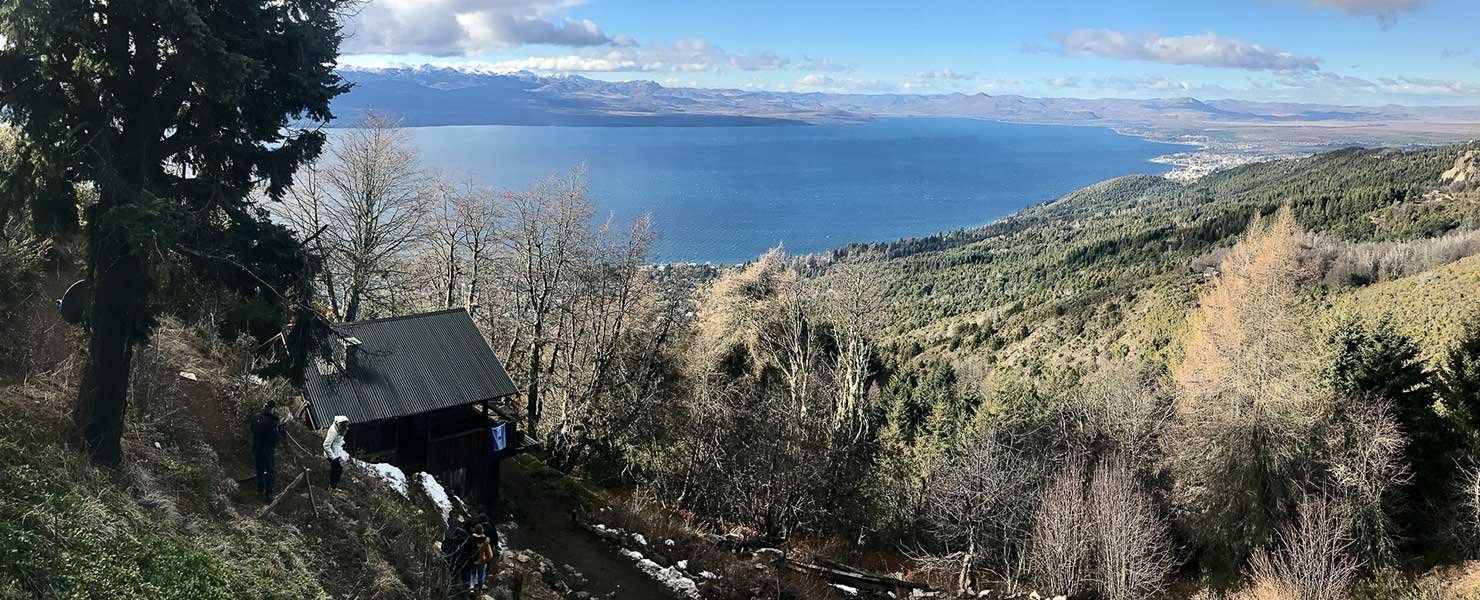 Low Difficulty
All year round
Distance
4 km.
(one way from the summit of Otto peak)


Elevation gain
85 m. from the summit of Otto peak.
350 m. if you hike up from km 1 of Av. Pioneros
Tiempo de Marcha
2 hs. (ida y vuelta)
5 - 6 hs. (ida y vuelta desde la base en el km.1)
How to get there

HOW TO GET THERE
From downtown Bariloche:
Taking the gondola lift to the summit.
Important: The ticket for the gondola includes the transfer from town to the base at km 5.
Bus: Line 50 or 51. Get off at the base of the "Teléferico Cerro Otto" at km. 5 of Av. Pioneros.
SUBE card needed to pay bus fare. Check timetable.
By car: Take Av. Pioneros to km. 5 where the base of the "Teleferico Cerro Otto" is located with free parking.
Ascending by car up to the summit:
From km 1 of Av. Pioneros take a gravel road up which starts opposite the YPF petrol station, continue 6 km. up this gravel mountain road to the end at the base of the building, there is free parking.
Ascending by foot to the summit:
Follow the same  instructions as for cars from km. 1 or take a trail which starts at km 4.5 Av. Pioneros (opposite the "Anónima" supermarket)
SERVICES
WARNING
Pay attention while walking, there are lots of forks along the trail and easy to get lost.
The entrance to the Cerro Otto complex and Revolving Cafeteria has an entrance fee.
Bear in mind that in winter the road up to the summit may be cut off due to snow accumulation.
DESCRIPTION
This is an easy hike if you start at the summit of Cerro Otto, as it is pretty flat and short.
If you rode up with the gondola, you exit the complex and head South down some stairs and join the trail in the forest that takes you to the "Piedra de Habsburgo" in roughly an hour.
For those walking or riding a car up, the trail starts next to the parking lot, just South and into the forest. The lookout point has great views of Catedral peak and the Gutierrez lake.
Half way along the trail there is a gate which you must cross, though entering private land it is allowed. Along the way there are a couple of short detours right which reach great viewpoints.
From the Habsburg rock take the same trail back to Cerro Otto complex.
If you walk or ride a car up you will go past the Berghof Hut which is well worth a visit.
Important: access to the Cerro Otto Complex and the revolving restaurant requires an entrance fee although you walk or take a car up.
TREKKING REGISTRATON IS NOT REQUIRED